Used-car retailer America's Car-Mart (NASDAQ:CRMT) reported Q1 FY2024 results beating Wall Street analysts' expectations, with revenue up 9.27% year on year to $368 million. The company didn't provide any forward revenue guidance. Turning to EPS, America's Car-Mart made a GAAP profit of $0.63 per share, down from its profit of $2.07 per share in the same quarter last year.
America's Car-Mart (CRMT) Q1 FY2024 Highlights:
Revenue: $368 million vs analyst estimates of $363.8 million (1.15% beat)
EPS: $0.63 vs analyst expectations of $0.91 (31% miss)
Free Cash Flow was -$46.2 million compared to -$67.3 million in the same quarter last year
Gross Margin (GAAP): 44.6%, up from 42.7% in the same quarter last year
Same-Store Sales were up 8.2% year on year (beat vs. expectations of up 7.5% year on year)
Store Locations: 155 at quarter end, increasing by 1 over the last 12 months
With a strong presence in the Southern and Central US, America's Car-Mart (NASDAQ:CRMT) sells used cars to budget-conscious consumers.
This core customer is usually a credit-constrained consumer who may have difficulty securing financing from traditional lenders such as banks. These customers may have poor or limited credit histories, which traditional lenders rely on to underwrite auto loans. America's Car-Mart's 'buy here, pay here' model addresses these difficulties. In this model, the dealership acts as both the seller of the vehicle and the financier, allowing a customer to purchase a car directly from America's Car-Mart and make their payments directly to the company rather than a bank or other finance provider.
America's Car-Mart locations are 8,000 to 10,000 square feet with ample outdoor space to display used cars for sale. These locations are primarily located in smaller cities and towns, especially ones with credit-challenged and likely lower-income populations. While the company does have an e-commerce presence, it was only established in 2020 and physical locations remain the primary avenue for doing business.
Buying a vehicle is a big decision and usually the second-largest purchase behind a home for many people, so retailers that sell new and used cars try to offer selection, convenience, and customer service to shoppers. While there is online competition, especially for research and discovery, the vehicle sales market is still very fragmented and localized given the magnitude of the purchase and the logistical costs associated with moving cars over long distances. At the end of the day, a large swath of the population relies on cars to get from point A to point B, and vehicle sellers are acutely aware of this need.
Competitors in the auto retail space include AutoNation (NYSE:AN), CarMax (NYSE:KMX), and Group 1 Automotive (NYSE:GPI).
Sales Growth
America's Car-Mart is a small retailer, which sometimes brings disadvantages compared to larger competitors that benefit from economies of scale. On the other hand, one advantage is that its growth rates can be higher because it's growing off a small base.
As you can see below, the company's annualized revenue growth rate of 20.7% over the last four years (we compare to 2019 to normalize for COVID-19 impacts) was exceptional despite not opening many new stores, implying that growth was driven by increased sales at existing, established stores.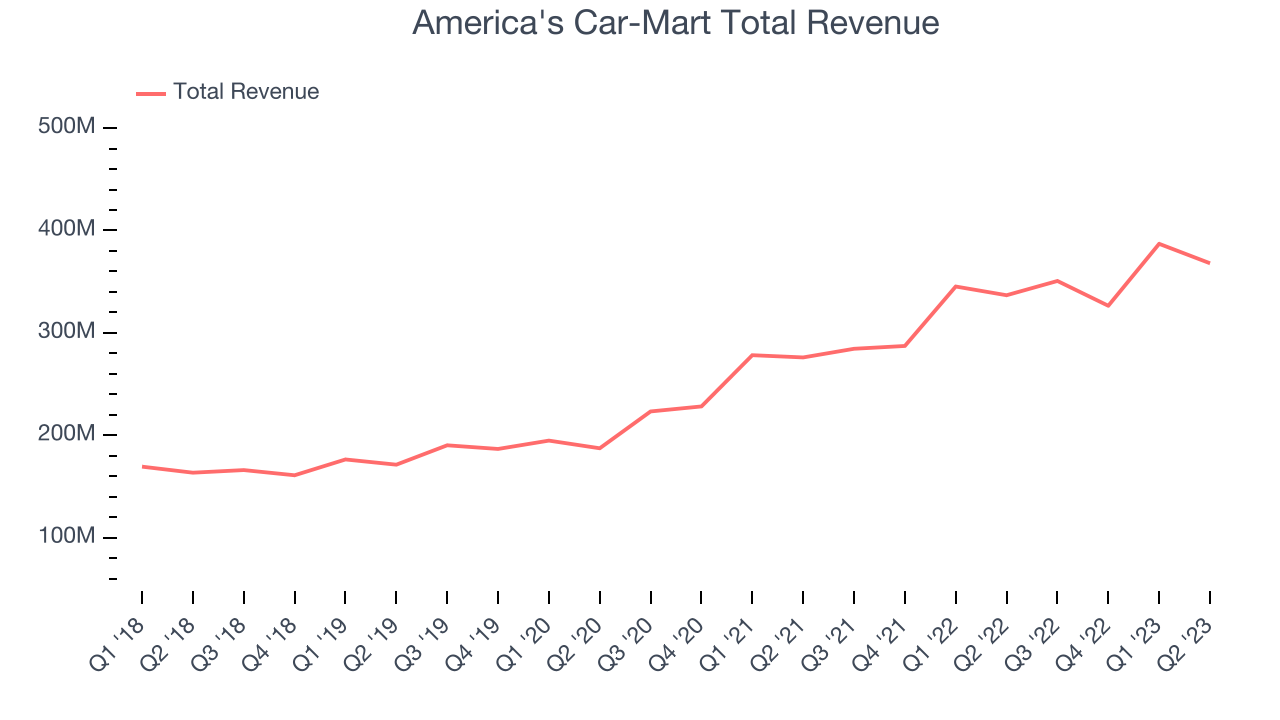 This quarter, America's Car-Mart reported solid year-on-year revenue growth of 9.27% and its revenue of $368 million outperformed analysts' estimates by 1.15%. Looking ahead, the analysts covering the company expect sales to grow 5.35% over the next 12 months.
Number of Stores
A retailer's store count is a crucial factor influencing how much it can sell, and store growth is a critical driver of how quickly its sales can grow.
When a retailer like America's Car-Mart keeps its store footprint steady, it usually means that demand is stable and it's focused on improving its operational efficiency to increase profitability. At the end of this quarter, America's Car-Mart operated 155 total retail locations, in line with its store count 12 months ago.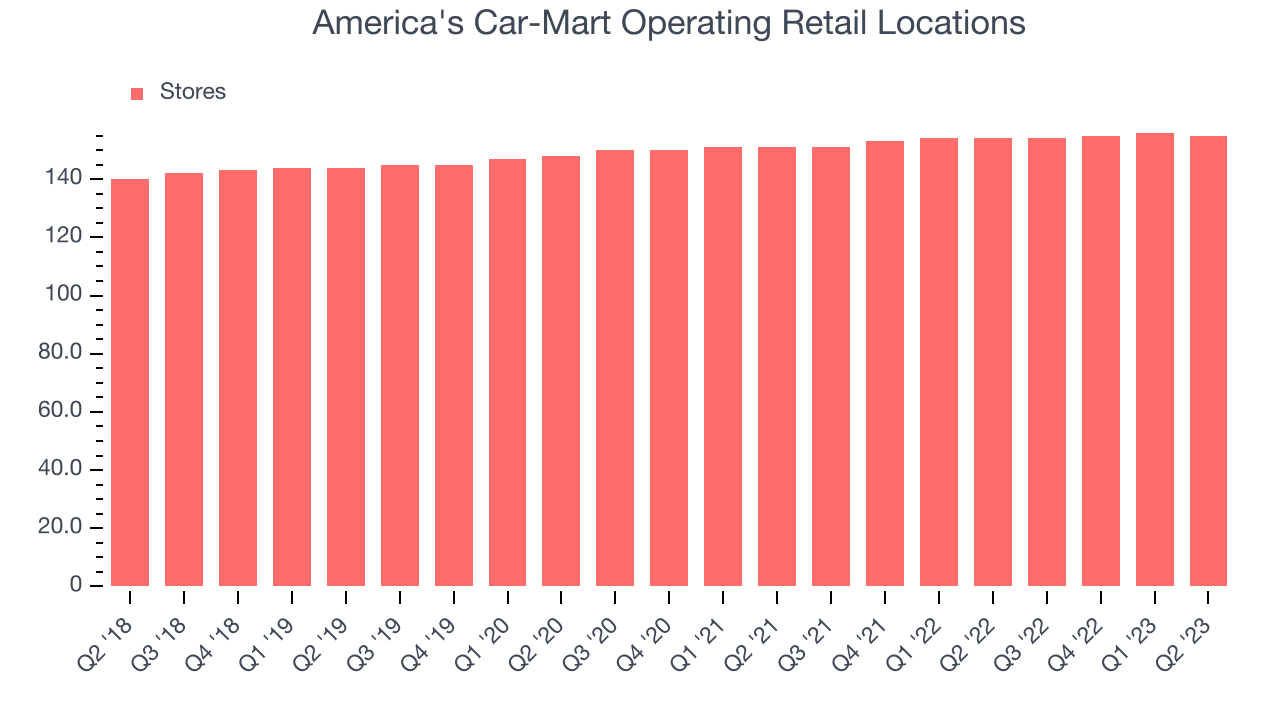 Taking a step back, the company has only opened a few new stores over the last eight quarters, averaging 1.49% annual growth in new locations. Although it's expanded its presence, this sluggish store growth lags other retailers. A flat store base means that revenue growth must come from increased e-commerce sales or higher foot traffic and sales per customer at existing stores.
Same-Store Sales
Same-store sales growth is an important metric that tracks demand for a retailer's established brick-and-mortar stores and e-commerce platform.
America's Car-Mart's demand has been spectacular for a consumer retail business over the last eight quarters. On average, the company has increased its same-store sales by an impressive 19.6% year on year. Given its flat store count over the same period, this performance could stem from increased foot traffic at existing stores or higher e-commerce sales as the company shifts demand from in-store to online.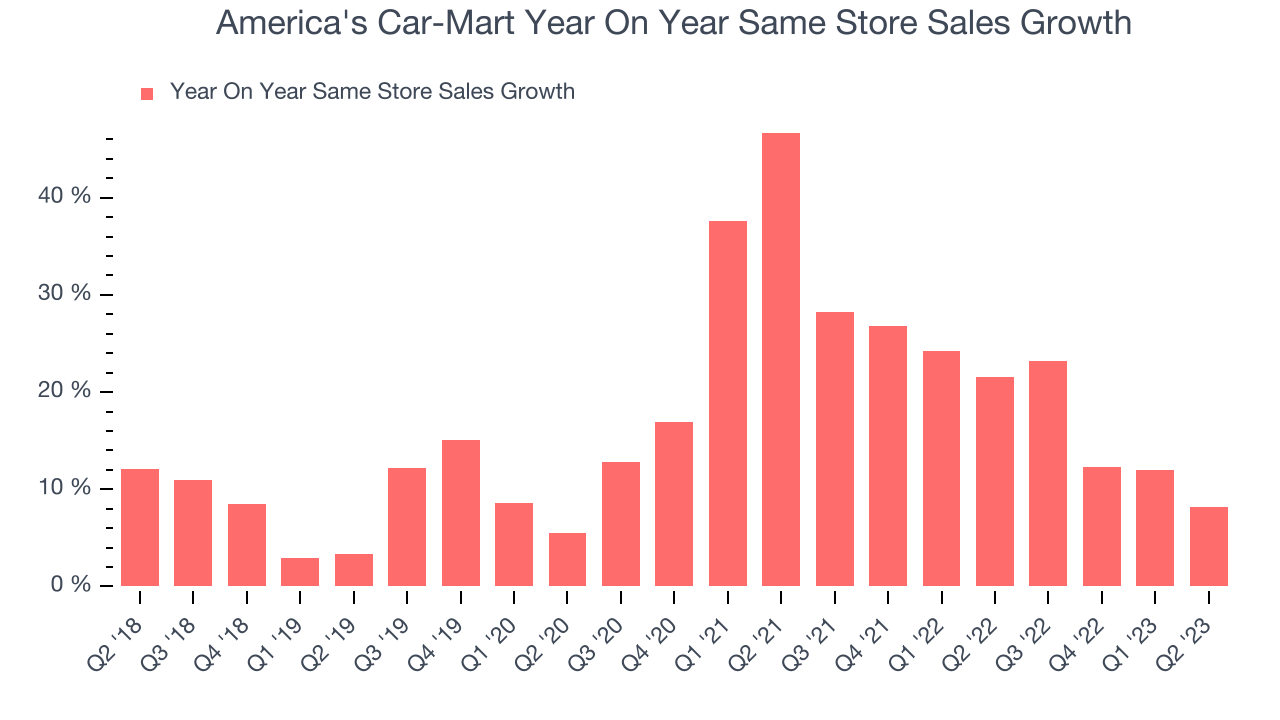 In the latest quarter, America's Car-Mart's same-store sales rose 8.2% year on year. By the company's standards, this growth was a meaningful deceleration from the 21.5% year-on-year increase it posted 12 months ago. One quarter fluctuations aren't material for the long-term prospects of a business, but we'll watch America's Car-Mart closely to see if it can reaccelerate growth.
Gross Margin & Pricing Power
We prefer higher gross margins because they not only make it easier to generate more operating profits but also generally indicate product differentiation, negotiating leverage, and pricing power.
As you can see below, America's Car-Mart has averaged an impressive 43.5% gross margin over the last eight quarters. This means the company makes $0.43 for every $1 in revenue before accounting for its operating expenses.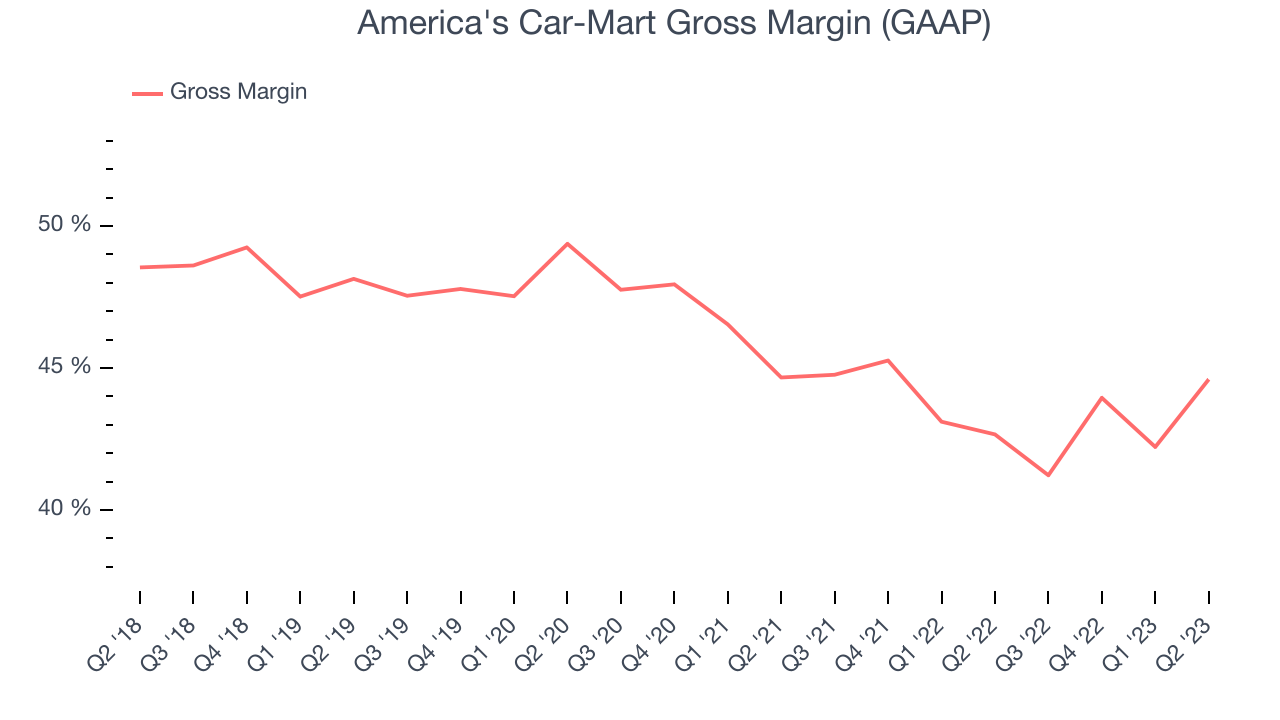 America's Car-Mart produced a 44.6% gross profit margin in Q1, marking a 1.9 percentage point increase from 42.7% in the same quarter last year. This margin expansion was comforting as it could signal that the company was operating in a less competitive environment with higher pricing power, less pressure to discount products, and more stable input costs (such as distribution expenses to move goods).
Operating Margin
Operating margin is an important measure of profitability for retailers as it accounts for all expenses that keep the lights on, including wages, rent, advertising, and other administrative costs.
In Q1, America's Car-Mart generated an operating profit margin of 5.34%, down 2.1 percentage points year on year. Conversely, the company's gross margin actually increased, so we can assume that the reduction was driven by weaker cost controls or operating leverage on fixed costs.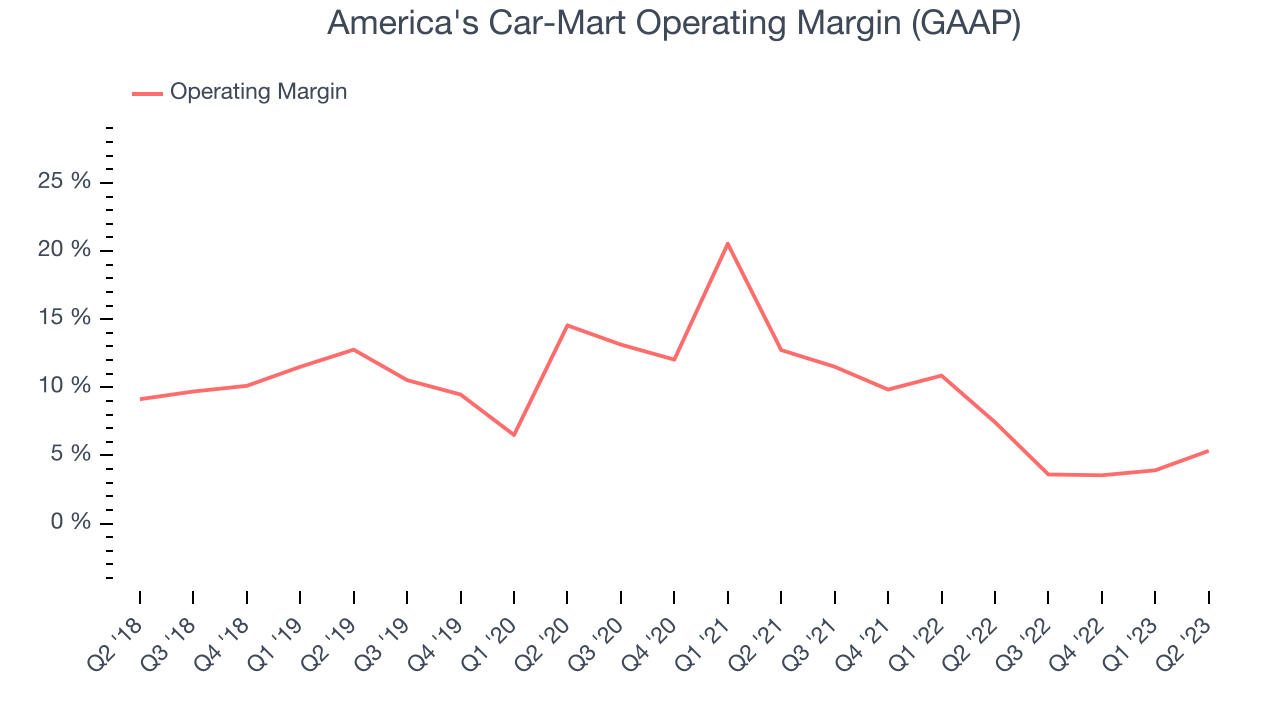 From an operational perspective, America's Car-Mart was profitable but held back because of its expense base over the last two years. The company has produced an average operating margin of 7.01%, mediocre for a consumer retail business.
EPS
These days, some companies issue new shares like there's no tomorrow. That's why we like to track earnings per share (EPS) because it accounts for shareholder dilution and share buybacks.
In Q1, America's Car-Mart reported EPS at $0.63, down from $2.07 in the same quarter a year ago. This print unfortunately missed Wall Street's estimates, but we care more about long-range EPS growth rather than short-term movements.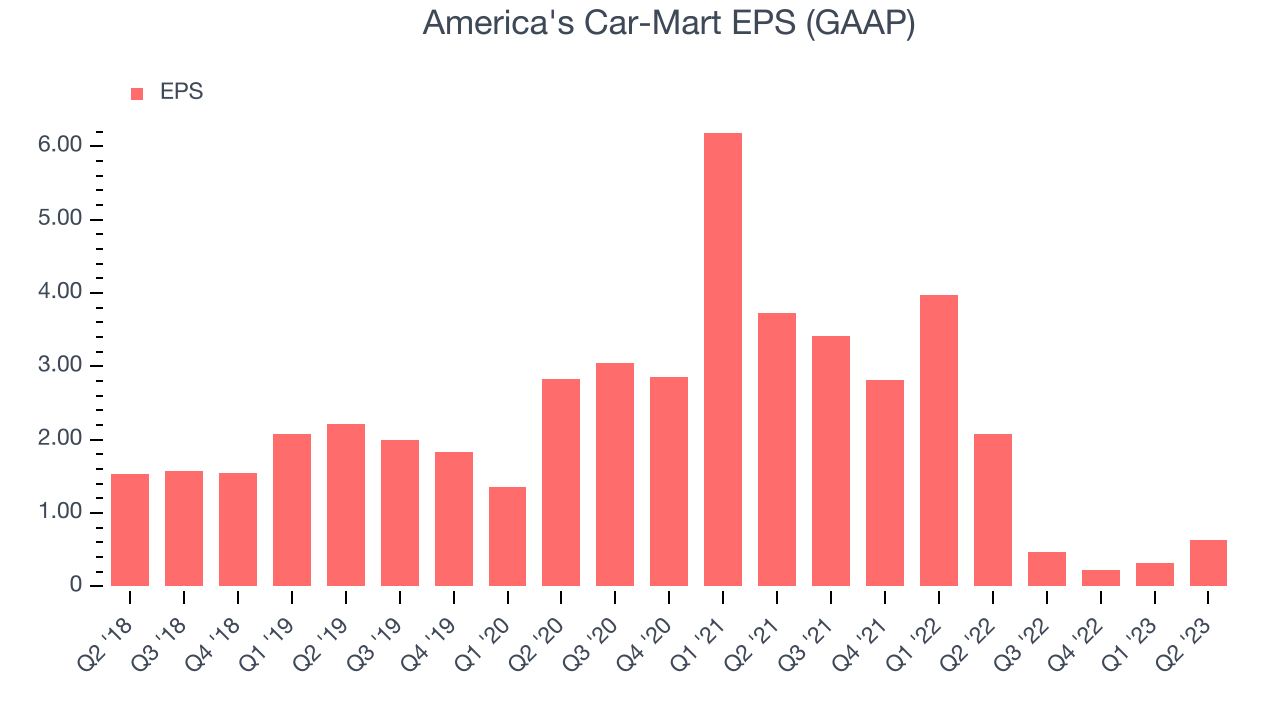 Between FY2021 and FY2024, America's Car-Mart's adjusted diluted EPS dropped 123%, translating into 40.9% average annual declines. In a secularly declining sector such as consumer retail, we tend to steer our readers away from companies with multiple years of falling EPS. If there's no earnings growth, it's difficult to build confidence in a business's underlying fundamentals, leaving a low margin of safety around the company's valuation (making the stock susceptible to large downward swings).
Cash Is King
If you've followed StockStory for a while, you know that we emphasize free cash flow. Why, you ask? We believe that in the end, cash is king, and you can't use accounting profits to pay the bills.
America's Car-Mart burned through $46.2 million of cash in Q1, representing a negative 12.6% free cash flow margin. The company reduced its cash burn by 31.3% year on year.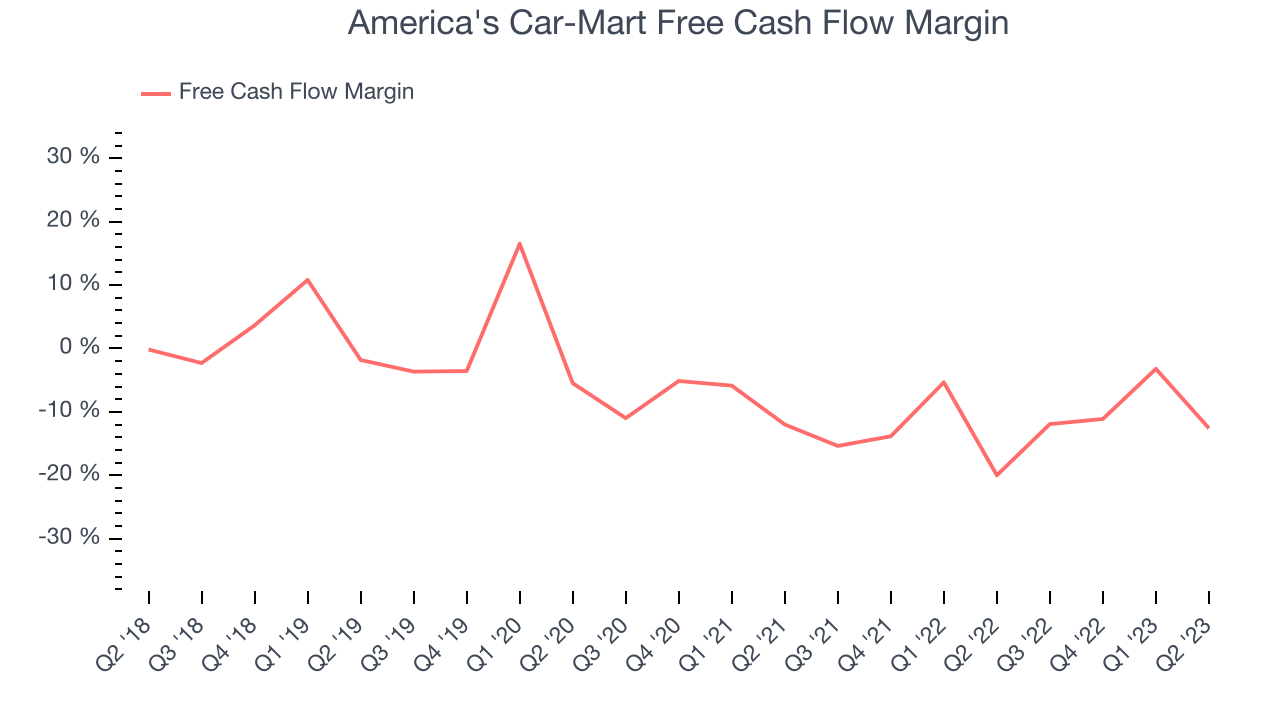 Over the last two years, America's Car-Mart's capital-intensive business model, lack of cost discipline, and need to reinvest to stay relevant with consumers in an increasingly competitive market have drained many company resources. Its free cash flow margin has been among the worst in the consumer retail sector, averaging negative 11.7%. However, its margin has averaged year-on-year increases of 3.9 percentage points. Investors should feel relieved as this is certainly a step in the right direction.
Return on Invested Capital (ROIC)
America's Car-Mart's subpar returns on capital may signal a need for future capital raising or borrowing to fund growth. Its five-year average return on invested capital (ROIC) is 12.2%, somewhat low compared to the best retail companies that consistently pump out 25%+ returns.
We like to track ROIC because it tells us about a company's prospects for profitable growth and its management team's ability to achieve it through capital allocation decisions such as organic investments, acquisitions, and share buybacks. ROIC is also a helpful tool to benchmark performance versus peers, and just like how we focus on long-term investment returns, we care more about a company's long-term ROIC because short-term market volatility can distort results.
Key Takeaways from America's Car-Mart's Q1 Results
With a market capitalization of $643.1 million, America's Car-Mart is among smaller companies, but its more than $6.31 million in cash on hand and near break-even free cash flow margins puts it in a stable financial position.
Retail units sold missed but revenue beat. EPS missed by a large margin because provision for credit losses and net charge offs were both meaningfully higher this quarter than in the same period last year. Management remarked that "improvements in many areas of the business...were overshadowed by the increase in the provision for loan losses during the period. The major drivers behind higher loan losses related to post-stimulus normalization of charge-offs, additional provisioning resulting from increased contract term, and a higher average interest rate for the portfolio. Said in a different way, we are experiencing the same credit results on the portfolio as we have historically, but the contract length has changed." Over this was a mixed quarter marred by the increase in provision for loan losses. While management expects this to normalize over time, the stock still closed down 13.7% yesterday.
Is Now The Time?
When considering an investment in America's Car-Mart, investors should take into account its valuation and business qualities as well as what happened in the latest quarter. We cheer for everyone who's improving the lives of others but in the case of America's Car-Mart, we'll be cheering from the sidelines. Its revenue growth has been exceptional, though we don't expect it to maintain historical growth rates. But while its gross margins are a strong starting point for the overall profitability of the business, the downside is that its cash burn raises the question of whether it can sustainably maintain growth and its mediocre ROIC suggests it is growing profits at a slow pace.
While it's trading at a reasonable price and we've no doubt one can find things to like about America's Car-Mart, at the moment, we think there might be better opportunities in the market.
To get the best start with StockStory, check out our most recent stock picks and then sign up to our earnings alerts by adding companies to your watchlist here. We typically have the quarterly earnings results analyzed within seconds of the data being released, and especially for companies reporting pre-market, this often gives investors the chance to react to the results before the market has fully absorbed the information.